You can enjoy  a scuba diving with our instructor even if you don't have a diving license

. This menu includes the necessary equipment. The instructor lecture about underwater signs and how to use the equipment. And then, you can have fun in the impressive underwater world with a maximum depth of 6 meters!
Menu name
Introductory diving
Price
11000 yen (rental equipment, training fee, boat boarding fee, etc.)
Age
5 – 59 years old   *60 years old and older guests need medical
certificate.
Time required
Two hours
What you
need
swimsuit, sandals, towel and underwater camera(if you would like)
Meeting place
Beach House Hauori
Special
service
You can download the photos during the tour by the web at a later date.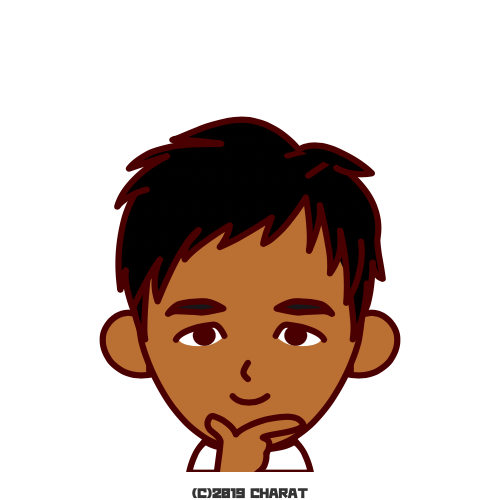 Daisuke
One staff responds with a small number of people while diving. That's why you can enjoy it in peace even if you are not good at swimming or beginners. If you are worried about introductory diving, please read below.
Features of Introductory Diving at Marine House Aharen
How many guests can be supported by one instructor?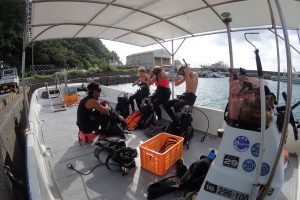 One instructor supports only two guests. You might feel nervous about first diving in your life. But the instructor is around you during the tour. So you can ask any questions casually at any time and relax and enjoy yourself.
Our diving tour is only for introductory diving.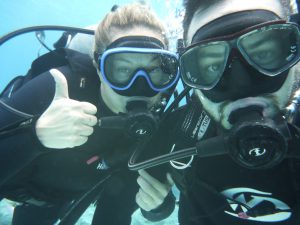 Diving that guests have license is called fan diving. Unfortunately there is no fan diving tour on our menu. Because it is difficult for beginner diver to dive in fan diving points.
Entry from a shallow place we can not  access by cruiser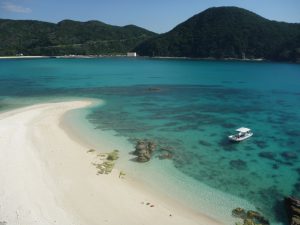 Your ears hurt like when you ride an airplane from about a meter underwater. You have to clear your ears but it's not easy for some people. The boat can go to a shallow point of  about 3 meters. It makes easy to dive and clear your ears!
Let's see the stream of time in a day!
Step1
Adjust the size of equipment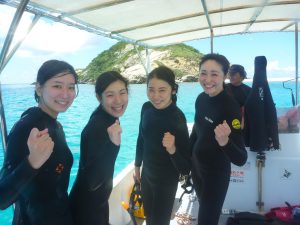 Fill out an application form and adjust the size of equipment such as wet suit, mask, fins.
Step2
Explanation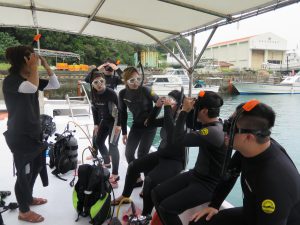 The instructor explain about how to breathe underwater, clear your ears, clear your mask and underwater hand signals.
Step3
Transference by the boat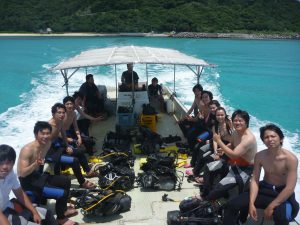 You don't need to take the heavy equipment to the point by walking. It takes 5-15 minutes to get to the point. So there's less risk of getting seasickness. The view from the boat is amazing! We recommend you bring your camera or mobile phone.
Step4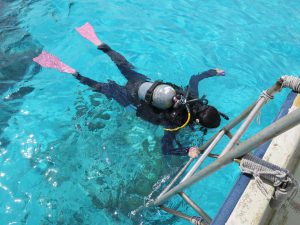 You can surely enjoy diving if you can put your face on the surface of the water. You hold on to a ladder and practice breathing on the surface of the water. At first, you might feel at odds with breathing through your mouth. But you will get used to it in a few minutes.
Step5
Going to underwater world!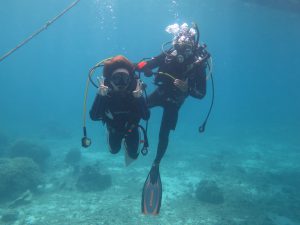 In our shop,the instructor takes the guests to the water one by one. The reason is that you can clear your ears easily. You can experience feeling like weightlessness.
6
Taking nice photos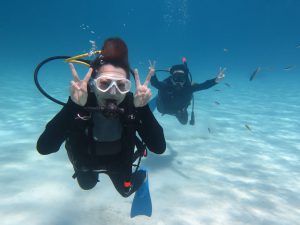 Enjoy the underwater world of the Kerama Islands. We provide the photographing service. You can download it from this website at a later date.
Cautions when diving
You may not be able to participate.
If you consume alcohol before participating in this activity, you can not join. It is very dangerous.
You will not be able to board the plane within 24 hours of the end of the dive.
If you can not communicate with our instructor due to the language, you can not join.Currently,our shop is available only in Japanese and English.
---
Please check your health before making a reservation.
If the following contents apply to you, you need to get a medical certificate from a doctor. In addition, please contact us by e-mail or phone if you have any concerns.
You see a doctor regularly.
Currently, you take a medication regularly.
You have epilepsy or panic disorder.
You are pregnant or may be it.
You have a hernia or back pain.
You have a disease of the ear and nose, such as sinusitis.
You have a respiratory disease.(Asthma, emphysema, bronchitis, pneumothorax, tuberculosis)
You have a circulatory system disease.(Arrhythmia, cerebral infarction, stroke, angina pectoris, hypertension)
You are over 60 years old.
Download medical certificate
---
Frequently Asked Questions
I'm not good at swimming, but can I participate?
If you can put your face in the water, you will surely enjoy the diving. In fact, there are a lot of divers who can not swim well.
---
I have a license, but my friend doesn't have. Can we participate diving together?
Yes, you can. However, diving tour level is for introductory diving.
---
We are a group of 10, but can we participate?
We can deal with 6 people once.So you will take turns diving. While waiting your turn, you can do snorkeling. Please contact us in advance because it makes irregular time schedule.