Our hotel "Marine House Aharen" is located in close to Aharen Beach. It takes only about 2 minutes!  There are some room types : private rooms of Japanese-style and Western-style, large room that can accommodate 10 people, and share room backpackers prefer. So Marine House Aharen is useful for family, a solo traveler and anyone!
Common services for  the guests staying with us
About the transportation service (shuttle bus)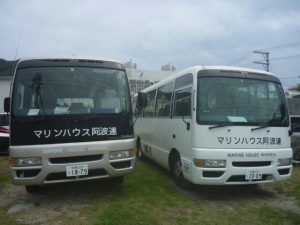 You can use a shuttle bus between Tokasiki Port and our hotel for free according to your ferry. Please let us know the departure time of your ferry at the booking. If you come from Aka Island or Zamami Island to Tokashiki Island, we pick you up at Aharen Port.