Let's experience your first dive in Kerama Islands!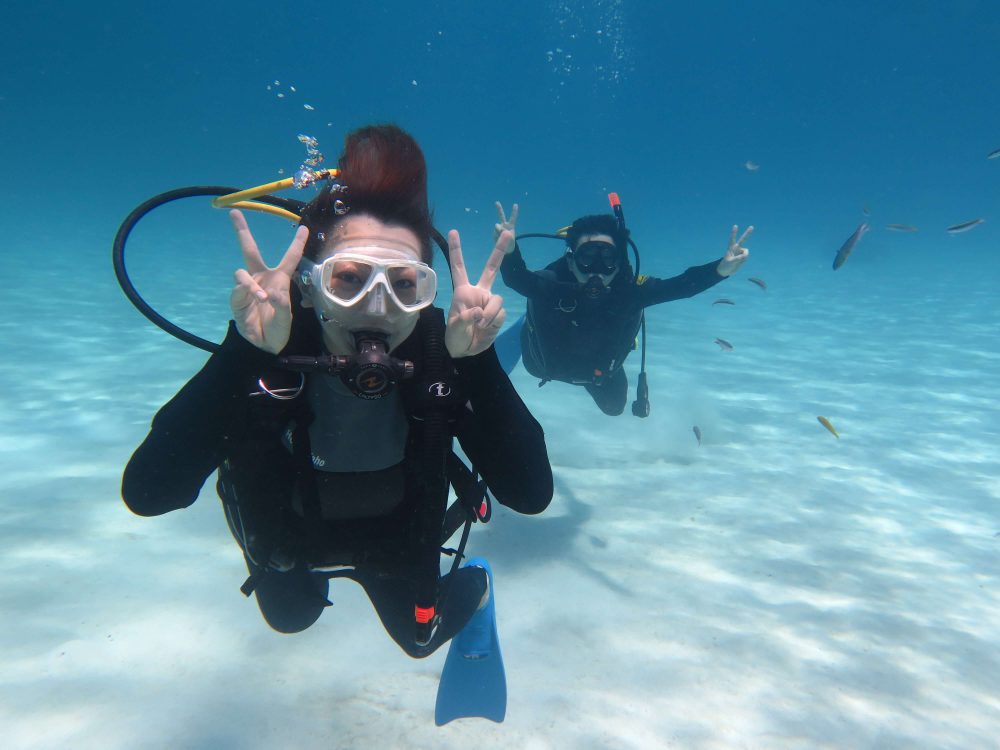 This is diving menu that you can enjoy diving with our instructor even if you don't have diving license and can't swim well.
Easy boat diving
1 instructor helps only 2 guests
Take phots while diving!
Season
All season
Price
Depends on season and plans
Included in the price
Equipment, guides, wetsuits, boat boarding fees, lesson
Meeting place
Please come to Beach House HAUOLI at entrance of Aharen Beach 30 minutes before the start.
Start time
09:00|Request booking
12:30|Request booking
15:00|Request booking
*Request reservation may not be possible depending on the situation of other tours.
What to bring
a swimsuit, a towel, sandals, something to drink
Participation requirement
Healthy people between the age of 12 and 59 years old.
Minors require parental consent.
Attention
You cannot board the plane on that day you dive.
We don't accept to participate after drinking.
It might be canceled depending on the sea conditions…
Health check
If guests have diseases or are injured, they need medical certificate.
Guest may not be able to participate depending on their medical history of respiratory disease, circulatory
system disease, epilepsy, aurinasal disease, diabetes and pregnancy.
Medical Certificate
Application
Introductory diving application form
\ Stay in Marine House Aharen/
\ Use our shuttle bus & shower /
About our introductory diving
Specialty shop of introductory diving
We can service guests who have diving license, but we service introductory diving mainly.
If beginner guests go together with guests who are used to diving,,,
feel nervous
Point is too deep or flow is fast
may not be able to feel free to ask the instructor

We try to take time and keep pace with the guest who are diving for the first time.
Diving schedule
application
Please come to Beach House HAUOLI at the entrance of Aharen Beach 30 minutes before the start. Fill out the application form and adjust the equipment used for diving.
Lecture on land
Learning hand signs and how to breathe in the water that are needed for safe diving.
Transport by our boat
You can visit a point without taking heavy equipment. It takes only 5-15 minutes to get there so no worries you get seasickness. You can see an awesome view of Kerama Blue from the boat! Nice to take your cell phone and post the photos on the Instagram:)
practice on the surface of the water
Even if you are not good at swimming, if you can put your face on the water, you are able to have a fun! At first, you practice a way to breathe on the surface of the water while holding a ladder. Normally we breathe with nose so you feel something wrong at first. But you can get used to it in a few minutes.
Finally going into the water!
In our shop, the instructor take a guest one by one into the water to clear ears easily. You can feel like weightless world.
Enjoy the sea world of kerama where is popular for divers!
We take phots in the water and you can download it on web site later date.
introductory diving movie