Aharen Beach is the main beach in Tokashiki Island. It has a white smooth sand beach is a total length of 800 meters. There are a lot of beautiful corals in the offing, and you can meet colorful tropical fish!
[alert title="To guests participating in day tour of Marine House Aharen"]Our shuttle bus will wait at the Tokashiki Port parking according to the your arrival time of booking. The bus stop is our beach house "Hauoli" near the entrance of Aharen Beach. You can use a changing and shower room at Hauoli.[/alert]
How to get to Aharen Beach
Aharen Beach is a 15-minute drive away from Tokashiki Port. In the case of a day trip, the stay time is short, so using a local bus is common.
[memo title="MEMO"]It takes about an hour on foot, but we are concerned wild boars sometimes have been seen from 2017. You may think going by a bicycle is speedy than walking, but we don't recommended it because there is steep slopes on the way.
A taxi is a ten-seater and only two taxis are available in the island. If you miss a return bus to Tokashiki Port, you can't get a taxi easily and no way to go back to the port anymore. That's why please don't miss the bus.
There are no local bus between Aharen Beach and Tokashiku Beach. If you want to go both, please rent a car or a motorbike.[/memo]
| | | | |
| --- | --- | --- | --- |
| Institutions | Company Name | Contact | Web |
| Local Bus | Tokashiki Kanko Bus | 098-987-2232 | Go to the website |
| Taxi | Yonehama Kotsu | 098-987-3215 | |
| Car Rental & Motorbike | Kariyushi Rental Service | 098-987-3311 | Go to the website |
| Car Rental | Kujira Rent-a-car | 098-987-2836 | Go to the website |
| Car Rental & Motorbike | Aloha Rental Kikaku | 090-6866-8666 | Go to the website |
About changing rooms, shower rooms and lockers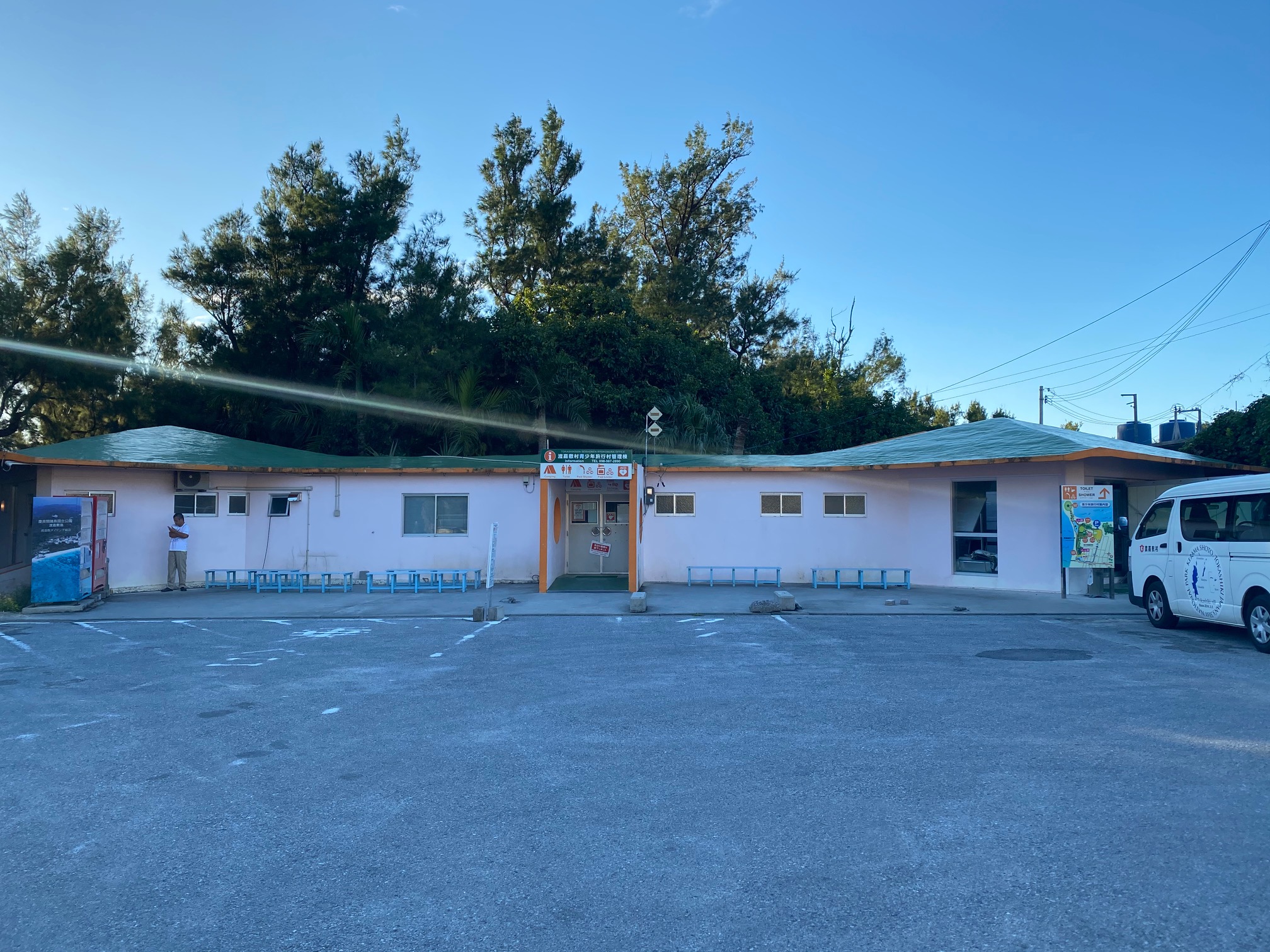 If you participate day tours or stay an accommodation, you can use each facilities, but when you come by a local bus, you should use "Youth Travel Village".
[memo title="MEMO"]In the summer, nearly 200 guests might use that facility because a lot of guests from overseas visit Aharen Beach as well. The number of lockers and showers are not so enough, it seems to be better to act early if you use it on a day trip.[/memo]
| | |
| --- | --- |
| Name of the facility | Aharen Youth Travel Village (Campground) |
| Contact Us | Tokashiki Village Tourism Industry Division TEL 098-987-2090 |
| Shower | 300 yen for 5 min, 6 showers each for men and women |
| Locker | 300 – 500 yen ( depending on the size ) , 24 lockers |
| Toilet | Free |
Activities and Rental items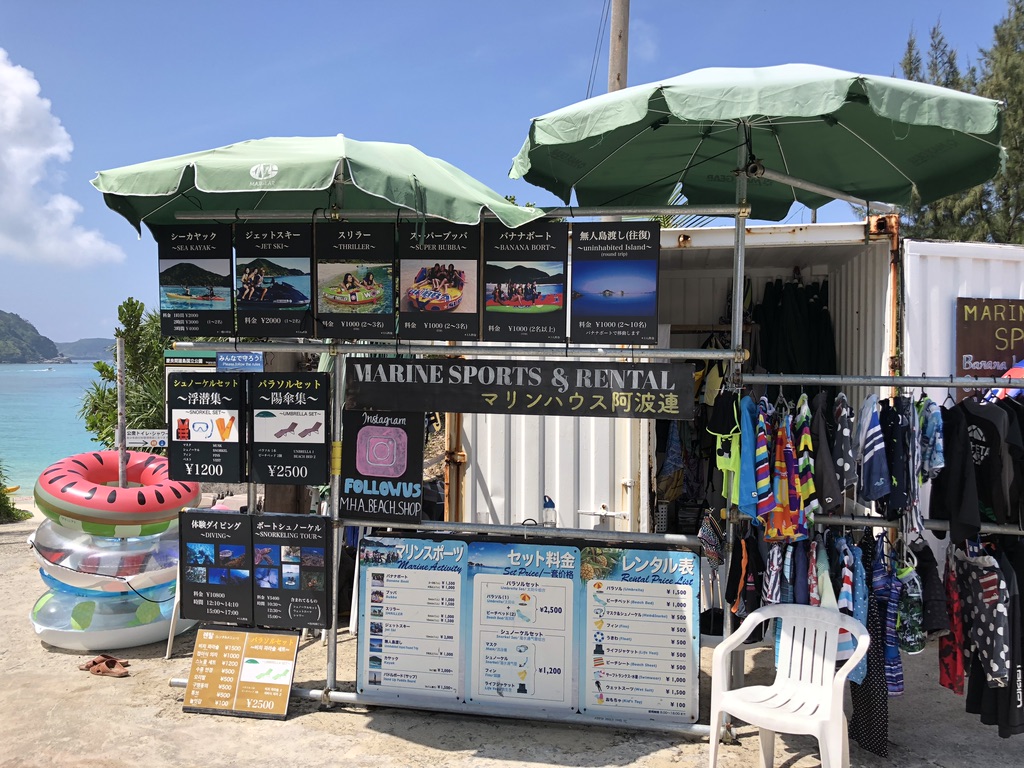 At the entrance of Aharen Beach, guests can apply for activities like a banana boat and rent items such as beach umbrellas.
[yoko2 responsive][cell]Rental shop
[/cell][cell]Activity[/cell][/yoko2]
About Lunch
There are some restaurants for lunch near Aharen Beach.
[memo title="MEMO"]The restaurants had opened in the summer in 2019 will be posted. Most of them accept only in cash and are closed from November to the end of March.[/memo]
| | | |
| --- | --- | --- |
| name | Telephone number | Non-cash payment available |
| Beach House Hauori | 098-987-2335 | Visa,Master |
| Ma-sa- no Mise | 098-987-2911 | Paypay |
| Barrack | 098-987-3108 | |
| Tommy Parlor | | |
| Half Time | 098-987-2021 | |
| Octopus Garden | 098-987-2844 | |
| Ikkyu | 098-987-2364 | |
| Nilai Kanai | 098-987-3422 | |
| Shimamun Cafe Plus | 080-6497-1392 | |
| Sea Friend | 098-987-2836 | |
Cautions at Aharen Beach
About swimming area
Light blue : swimming area. On the season below, there are observers.
Yellow : swimming – restricted area. This area is allowed to be ensured safety by the business establishment and conduct tours at the responsibility of the business establishment.
Red : banned swimming area. It is a sea route, and swimming is dangerous.
Frequently Asked Questions
Are there observers on Aharen Beach throughout the year?
No. It is while the beach is set up. Not prohibited to swim, but you should be careful when swimming.
[tensen]
Underwater at Aharen Beach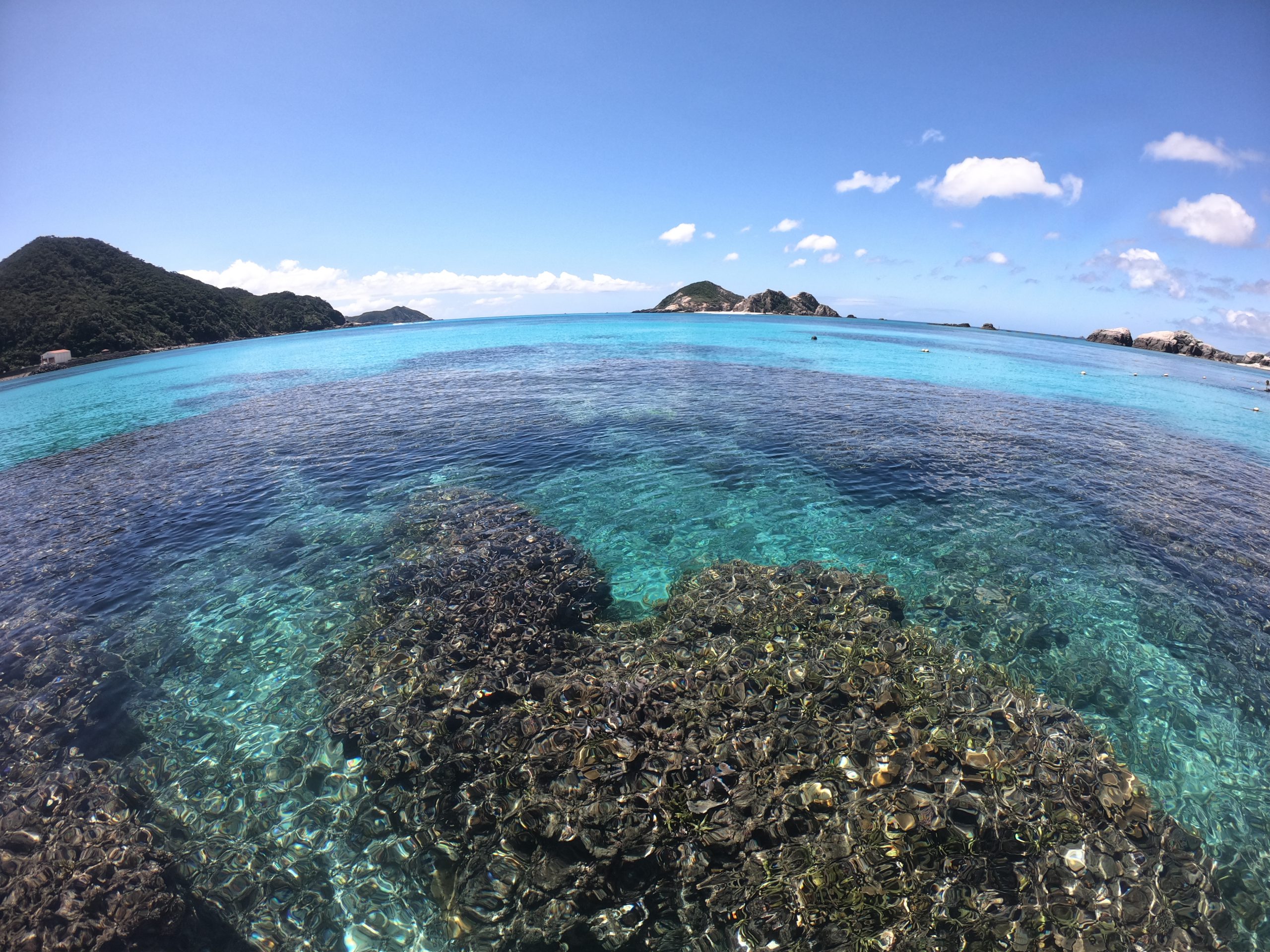 You can see tropical fishes in swimming area! Please be careful not to step on reefs because it comes to be near at low tide.There are beautiful coral reefs in offing of Aharen Beach. Often we saw sea turtles in 2019.